It is believed that
Libro de Geometria, Pratica y Traça
is the first published pattern book in the western world. It was written by Juan de Alcega, and was published in Madrid 1589. One copy of the book exists in Victoria and Albert Museum in London.
It was published again in 1979, now with the title
Tailor's Pattern Book
(ISBN 0-903585-31-6). The book is part facsimile, part translations and comments.
The book contains a pattern for a "Ropa de Letrado", which is translated to "a learned man's gown". Since I work with academic dress, I could not resist trying to make one.
This is what the pattern page looks like, text and all: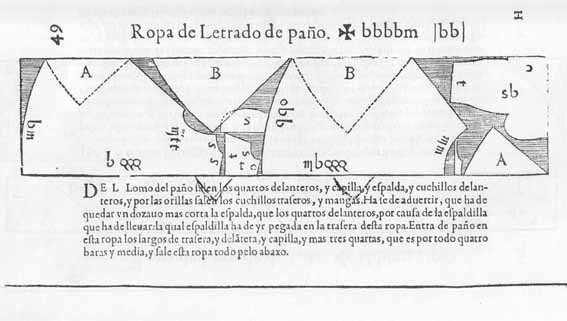 The first problem was to understand the pattern - which piece is which? The pattern pieces were identified:


Then I had to understand the letters and markings. The book contains a table to convert the letters both to "bara" (a Castilian measure - one bara is 85 cm) and to centimeters.